History – Regional Impact Drives Local Action
Healthy San Gabriel Valley (HSGV) is a multisector collaborative of public and private sector organizations that came together in 2011 over the inadequate collection of disaggregated health data in the SGV that was masking known inequities. In 2017, HSGV was awarded modest funding from the California Accountable Communities for Health Initiative (CACHI) to apply the Accountable Communities for Health (ACH) model to address regional health. Until 2022, HSGV was one of 13 CACHI sites across California focused on changing systems that reduce inequities. During this time, partnerships strengthened and united around a core vision that resulted in the successful launch of a local prototype city in Azusa to address multiple forms of violence in late 2019. All in for Azusa (AIFA) coalesced and flourished during the pandemic, leveraging regional partnerships to bring more programs and services to the residents of Azusa. All in for Azusa is now a standalone ACH site with support from HSGV serving as a regional hub. Through local and regional efforts, HSGV aims to create a regional and local movement that engages SGV communities and organizations to transform systems that improve health.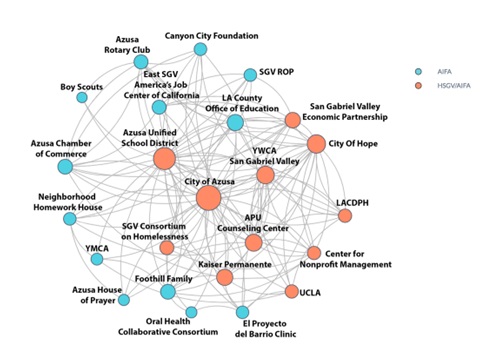 Priorities Areas and Goals
Develop a regional communication / data network to create a healthier region.

Goal: Develop the HSGV network

Advocate for resources collaboratively.

Goal: Secure additional funding

Support local efforts that improve the health of individuals and communities.

Goal: Launch the Azusa prototype

Advance positive systems change in the San Gabriel Valley.

Goal: Model cross sector approach to systems change and engage local efforts in the movement
HSGV Vision
A healthy, equitable, safe and resilient San Gabriel Valley
HSGV Mission
To activate a supportive, representative group of communities and organizations in the San Gabriel Valley to create a state of wellness that is accessible to all through:
* addressing health and social inequities;
* impactful cross-sector collaborations;
* and integrated, accessible care.
HSGV Values and Equity Statement
Healthy San Gabriel Valley acknowledges that poor health is rooted in racial injustice and social and health inequities. We believe we must:
1) Create solutions that ensure justice, equity, diversity and inclusion in all aspects of our work;
2) Advocate for and lead successful policy and systems-change initiatives, and;
3) Pledge to be anti-racist and mindful of our own biases while honoring the identity, culture and life experiences of those we work with and serve.
Key milestones in the development of HSGV and its current work using a multisectoral approach to systems change at the local and regional levels:
2009: Los Angeles County Department of Public Health funds the City of Azusa to address obesity and enhances the YWCA-SGV partnership with SGV stakeholders.
2010: Community organizations join the San Gabriel Valley Economic Partnership to consider options for establishing a San Gabriel Valley Nonprofit Resource Center.
March 2010: President Obama signs the Affordable Care Act into law, which authorized the Accountable Communities for Health Model.
2011: Key SGV healthcare community partners meet to discuss the viability of forming a collaboration utilizing the Building Healthier Communities with YWCA as the backbone organization.
August 2015: The YWCA-SGV launches the first "Roadmaps and Intersections Forum," providing an opportunity for multi-sector information sharing on, best practices, etc.
March 2016: YWCA-SGV convenes its healthcare collaborative Steering Committee and agrees to apply to CACHI under the name: Healthy San Gabriel Valley Initiative.
2017: HSGV participants issue a CACHI "Intent to Commit" based on the Building Healthier Communities Model, focusing on integrating systems change.
September 2018: YWCA-SGV and the HSGV co-sponsor the LA County Health Agency community meeting on the Health Equity Action Plan.
August 2019: HSGV is awarded funding to pursue a multi-sectoral, systems change approach to preventing multiple forms of violence in the City of Azusa.
December 2019: Azusa prototype holds kickoff meeting with City of Azusa stakeholders and names the initiative All in for Azusa
June 2020: Azusa Coordinating Council convenes first meeting with all interested stakeholders in the All in for Azusa Initiative.
October 2020: AIFA Integrated Care Working Group forms to address program and service integration for Azusa residents.
February 2021: AIFA Workforce Development Working Group begins meeting to link educational pathways with Azusa employers.
March 2021: AIFA Design Team holds first meeting to coordinate activities across new and forming working groups.
June 2021: First combined Design Team meeting for both HSGV and AIFA convenes to streamline strategy development across both initiatives.
August 2021: AIFA holds first unofficial event with a Job Fair at Memorial Park.
September 2021: Integrated Care Working Group convenes focus conversation with Azusa youth about teen center programming.
December 2021: Integrated Care Working Group is renamed Youth and Families Integrated Care Working Group to focus on teen and family center activities in Memorial Park.
December 2021: Case conferencing begins for Azusa seniors with City of Azusa and YWCA-SGV.
March 2022: AIFA releases Network Analysis report for social connectedness across partnerships from both initiatives.
March 2022: City of Azusa is awarded $560,000 federal funding through a collaborative effort of HSGV/AIFA stakeholders for a teen and family center in Azusa.
April 2022: Senior Network of Care Working Group is formed with key stakeholders from APU Counselling Center, APU Nurses, City of Azusa and YWCA-SGV to address systems changes needed for integrated senior care.
May 2022: AIFA holds first official CommUNITY Festival featuring a job fair, health and wellness fair, music, sports, and a variety of activities across stakeholders to showcase Azusa community resources.
August 2022: Leveraging federal funding, Azusa Youth and Family Center officially opens its doors with integrated programming from key partners offering expanded sports and recreation, workshops and group chats for teens and workforce readiness skills for adults and teens.
November 2022: HSGV carves off Intersections from Roadmaps to create a new virtual format panel discussion featuring more interactive focused conversations in a shortened 90-minute format. The first Intersections was titled: Youth Sports Impact on Mental Health.
April 2023: City of Azusa and the All in for Azusa Initiative partners hosted Congresswoman Grace Napolitano, Administrator of SAMHSA & Assistant Secretary at the US Department of Health and Human Services, Dr. Miriam E. Delphin-Rittmon, community leaders, and of course youth and their families, for a site visit and discussion about the programs offered at the Azusa Youth and Family Center through AIFA.
May 2023: AIFA and the City of Azusa host the second annual CommUNITY Festical and Eco Fair at Memorial Park.
June 2023: All in for Azusa awarded $300,000 from CACHI for continued cross-sector work as a standalone ACH to reduce multiple forms of violence with a new focus on expanding equitable access to outdoor space.