Driving local change and regional impact.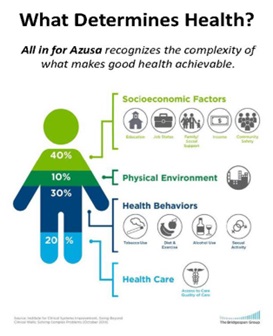 Figure 1. What determines health?
What makes good or poor health possible is more than what happens inside a doctor's office or hospital. Health is created in the community setting. In fact, 40% of an individual's health is influenced by socioeconomic factors such as education, jobs, family support, and income. Other factors such as health behaviors, access to quality care, and the physical environment, influence health by 30%, 20% and 10% respectively (Figure 1). Given this complexity of what determines health, it is a necessity that health be examined broadly and across sectors and disciplines in order to be truly impact the health and wellness of our communities.
From the high cost of healthcare to disparities in access to care, there has been an emphasis in "downstream" treatments, rather than on prevention, or what may be referred to as "upstream" strategies. Healthy San Gabriel Valley (HSGV) and All in for Azusa (AIFA) are working upstream in tandem to drive local change and regional impact.
The San Gabriel Valley consists of nearly two million people and is the easternmost region of Los Angeles County. HSGV and AIFA, are parallel and integrated initiatives—applying a regional and local approach to systems change across sectors that reduce inequities and improve health outcomes for everyone. Through regional convenings like Roadmaps and Intersections, HSGV is committed to impactful regional cross-sector collaboration and continues its support of local action through All in for Azusa, to integrate programs and services that improve whole-person care while reducing multiple forms of violence
The assets that communities have or do not have may directly contribute to individual and to population health. While addressing these "upstream" social factors or livability domains, known as social determinants of health, is critically needed, it is unclear how to create these systems of care, pay for them, and make them sustainable. Creating more programs to address these and other community concerns is important, especially if there is a community need. However, creating new programming isn't always the answer if services already exist, albeit within fragmented systems. Addressing these systemic challenges to community health requires a new way of operating and greater integration of care across sectors to find new and innovative intersections, within which to work.
"System change efforts are focused on improving policies, structures, processes, and practices that impact access to community services and supports for people in need.  By nature, system change involves multiple stakeholders with an authentic commitment to collaborate for excellence and equity." –Community Health Solutions (Source: https://chsresults.com/system-change-strategies)
Just as our infrastructure of bridges, roads, and freeways take us where we need to go, a well designed and constructed infrastructure of network partners can help get communities to their health and wellness goals.  Central to the solution is the goal of integrating the existing assets to foster better ways to deliver more holistic care for those who need it most. By working more efficiently and effectively together and drawing on the expertise that already exists, we can deliver better outcomes for health and wellbeing.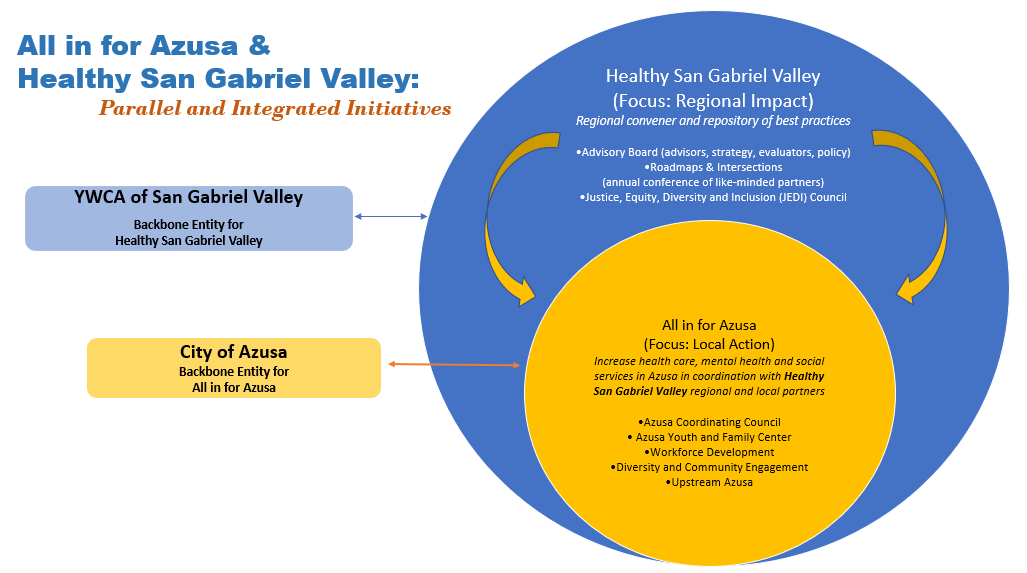 "I love this group and everything it stands for!"
"Continued integration of services and collaboration efforts will continue to be a benefit to the community we all serve."
–HSGV/AIFA Partner
HSGV and AIFA recently embarked on an evaluation of the network of organizations and community stakeholders that make these collaboratives. The goals of this evaluation were to:
Visualize the network relationships
Provide insights about the ways we work together
Identify opportunities for continued growth and development
Demonstrate the impact of our collective efforts
Of the 24 organizations invited to participate in the survey, results revealed eight distinct groups that engage in the network, representing a diverse coalition of entities (Figure 1).
Summary of the network evaluation results:
40% greater frequency of partner activity since joining the network
96% of current partnerships reflected increased coordination of services through participation in AIFA
45% increase in intensity of relationships within the network, with 64% of partners indicating that they are coordinating/integrating with partners as a result of these new partnerships
Figure 2 shows the social network map of the AIFA—HSGV Network of each organization represented in the survey as a circle (node) and the lines shown demonstrate all relationships that were reported by respondents (selected to show all reported relationships). Nodes are colored by the organization's affiliation with AIFA or both HSGV/AIFA. The larger a node is displayed, the more connections the corresponding organization has.